Location
Edit
Gallow Green, Speakeasy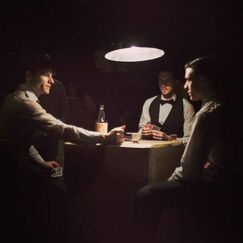 Character in the Scene
Edit
Malcolm; Banquo; Macduff
The speakeasy bartender will observe the scene until he goes into hiding.
Description
Edit
Malcolm, Banquo and Macduff arrive in the speakeasy, still suspecting each other for Duncan's murder. They sit down, have a drink, and start a mysterious card game involve shots, nails and hammer.
The game is interrupted by a deranged Macbeth. Malcolm fled through the maze to High street, followed closely by Macduff. Banquo is left in speakeasy alone, facing a murdering Macbeth.