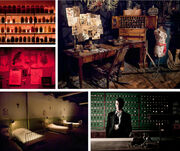 The McKittrick hotel is where the entire action takes place. Its name is the same as the hotel in Hitchcok's movie
Vertigo
.
There is a whole article on the New York Times about the set: Punchdrunk Transforms Chelsea Warehouses for 'Sleep No More'
They have a very informative gallery with audio commentary about the set: Something Wicked .
You can also find numerous photos of the set here: http://www.scoutingny.com/?p=3816 (the story seems to be fake though)
First Floor
Edit
Duncan's Study
Duncan's bedroom
Duncan's Chapel
Mezzanine
Banquo/Danvers 1:1 Room
Second Floor
Edit
Hotel Lobby
Dining Room
Manderley Bar
Bathrooms (off hotel lobby, to the left of the check-in desk)
Porter's Lost Items
Lost Luggage
Porter's Office (locked if Porter is doing a one-on-one)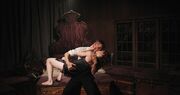 Third Floor
Edit
Macbeth's bedroom
Crumbled courtyard
Cemetery
Macduff's apartment
Fourth Floor
Edit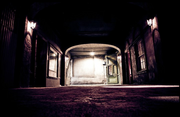 Little town known as Gallow Green.
Speakeasy
The "Paisley Sweets" Candy store
Taxidermist office
Hecate's replica of the Manderley Bar (also know as the "orgy room")
Malcom's Detective Agency
Tailor's Shop
Boy Witch's bathroom (usually locked except immediately following orgy)
Interrogation room with hanging light (off hallway leading to orgy room)
Bird Graveyard
Funeral Parlor
Rebecca's Parlor
2nd Mrs. Dewinter's Bedroom (behind door in Parlor, not always open)
Narnia closet (in the second Mrs. Dewinter's bedroom) with one-way door leading to back of funeral parlor/morgue.
Hecate's Apothecary - Herb Room
Fifth Floor
Edit
The King James Sanitorium
The forest, which includes the Matron's hut
Bed Ward
Bath Ward
Nurse's Office
Birch Maze
Hospital Chapel
Padded Room
Autopsy Room
Bathrooms (down long hallway)
Keycard Room
Sixth Floor
Edit
Forbidden access. Only a few guest can be lead up to 6th floor by characters.
Spoiler warning!
There's some content available containing spoilers.
The first person off the elevator will sometimes be let off on the 6th floor, numerous each performance, and will have a one-on-one with nurse relating to the opening scene of Rebecca. Sometimes the first person is let off on the 5th floor - the one-on-one cycle is longer than the elevator trips. Sometimes the orderly will hang out on the 5th floor and wait for someone who notice them before taking them up.
Here is my experience: the woman was happy to see me, held out her hands to me and said she'd been dreaming about me - we'd returned to Manderley. I realize now she is the narrator from Rebecca. She spoke lines from the book. Then she sat me down in a victorian wheel chair and pushed me down the long hallway in the dark. She then laid the chair down flat so I was looking up: the ceiling was covered in a miniature of Manderley. A voice-over spoke more lines from the book and the house seemed to be on fire. Then she pushed me back down the hallway. Then she stood me up, took my hand, and we ran down the hallway. Then she told me I must never return to Manderley and showed me out.