Hecate's familiar, though only appears in human form.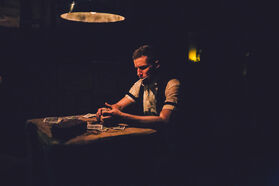 Notable feature
Edit
Wears black sleeve band on both arms.
Plotline
Edit
TBA.
Spoiler warning!
There's some content available containing spoilers.
He'll drag a guest into the locked room behind speakeasy counter; make a toast, then plays a card magic trick with guest and suggest them running away with him.